A powerful app that allows to quickly access their favorite websites, documents, and other digital content, Quicklinks has for years been helping our users save time and improve their productivity. Today, after tons of valuable user feedback and deep product development, we are excited to announce the launch of a new version that brings you a host of exciting new features and an even more powerful and secure experience.
What is Quicklinks?​
Quicklinks provides you with the ability to easily create, store and share links with your colleagues right from inside Microsoft Teams. You can have personal links just for you as well as shared links within a Teams Channel, group Chat and, in the new version, even have links that are easily shared across your entire organization. Grouping, tagging, sorting and searching also make it effortless to manage and find the link you need in a snap.
Using Quicklinks is simple. Within a Channel or Chat it can be added in seconds as a new tab, and for personal and org-wide links you can add it via the Teams app store directly. Within the Channel, Chat or org-wide views, your colleagues can access the same links and resources, creating a centralized hub for everyone to stay on the same page. And with Quicklinks' intuitive interface, you can categorize links by topic and easily search for specific links when you need them most.
To find out more, check out the video below:
What's new in version 2?​
Lots! Quicklinks 2.0 is a complete redesign and rewrite, making it faster to load and more secure by default! Aside from that, by upgrading to the new version of Quicklinks, you'll experience an improved user interface, automatic completion of Quicklinks data, better sharing options, and more. It also allows you to customize your links with images, tags, and other content. With the new version of Quicklinks, you can now more easily create and share memorable links with ease. The enhanced security means better protecting all user data so that you'll never have to worry about your privacy or security when using Quicklinks (this was optional in Quicklinks 1.0, now it's on by default).
Here's some more detail on specific features:
Groups​
Before, in a chat or channel you had your personal links and then just a single place to store all chat or channel links. Now, both in the personal app ase well as in channels and chats, it's possible to have as many groups as you want as a way to store a collection of related links.
Who Moved My Quicklinks?
To make this work, it didn't really make sense to have your personal links appear everywhere inside Teams any more. They're still there, but only in the personal app view now - note the My Quicklinks link on the top left in the new version.
Note that tagging is still available too, so now you have mutiple ways to arrange your Quicklinks!
Drag-and-drop​
Quicklinks has always sorted your links alphabetically, so at least there was a reliable way to find them, but one thing our customers have asked for for ages is the ability to sort Quicklinks in the order they specifically wanted. In the new version this is possible now, just using a simple drag and drop, you can drag your Quicklinks to exactly where you want them, even across different groups.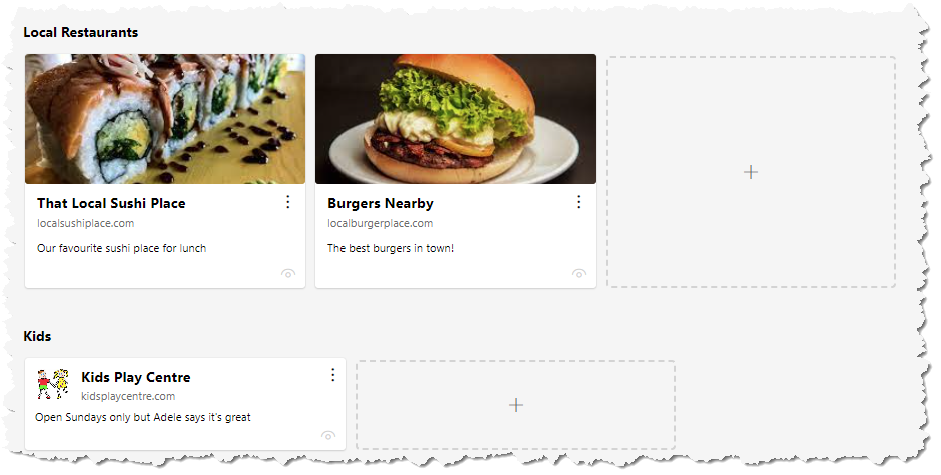 View Modes​
In the new version, you now have a choice of how you want to display your links - in a smaller, more compact style similar to Quicklinks 1.0, or in larger 'cards' with more emphasis on the image. When moving a Quicklink to a new group, drag and drop will respect the group you're moving to and automatically change the Quicklink to suit where it's going.
By the way, notice the little icon on the bottom right of the Quicklinks in the screenshot - that's a view counter that will show you some analytics about how many times your Quicklink has been opened, right on the link itself.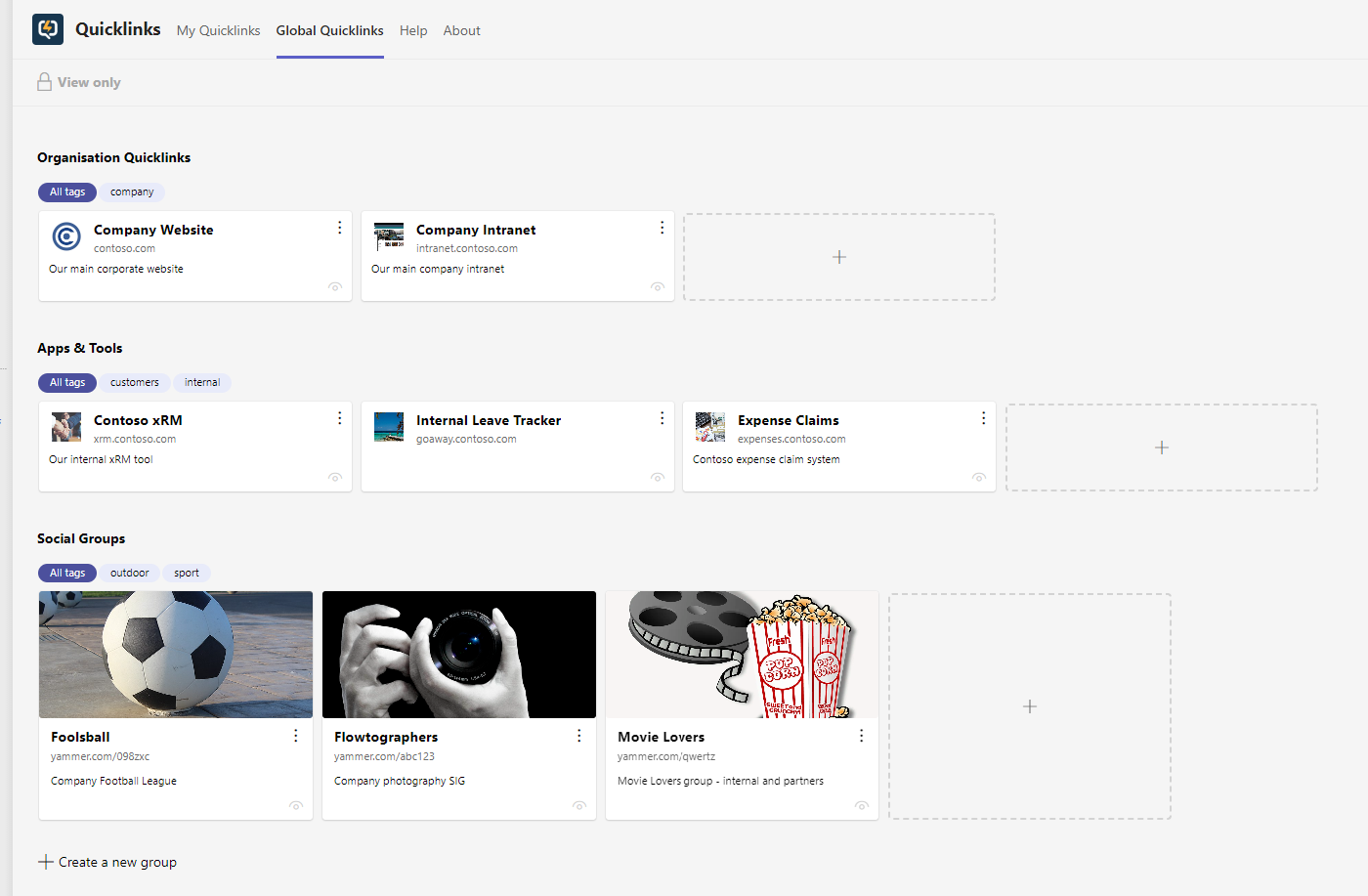 Org-wide Quicklinks​
In Quicklinks V1, it was possible to store personal, chat and channel Quicklinks. Those are all still possible, but within the personal app context (when you access Quicklinks via the left menu inside Teams) there's also a new Global Quicklinks tab which enables you to have a single central place to store and share Quicklinks that everyone in your entire organization can use and share.
(Note that this feature can be security controlled so that only limited people in your organization can add, edit, and delete links, with the rest of your users simply access the Quicklinks in a read-only manner.)
Enterprise Subscription Only
Please note that Global Quicklinks is only available on an Enterprise license of Quicklinks. Find out more about the different pricing options and features on our website.
But that's just a snippet - there are a ton of other new features in the latest version so if you haven't installed Quicklinks yet, try it today!
What about my existing Quicklinks?​
As part of the new version, we have built in protections that guarantee that your current data will be kept safe during the transition phase. When you upgrade to the new version, all of your Quicklinks will automatically come with you – but with additional enhancements. With this update, we are confident that we can continue to provide them with a better, more efficient service than ever before.
How do I upgrade?​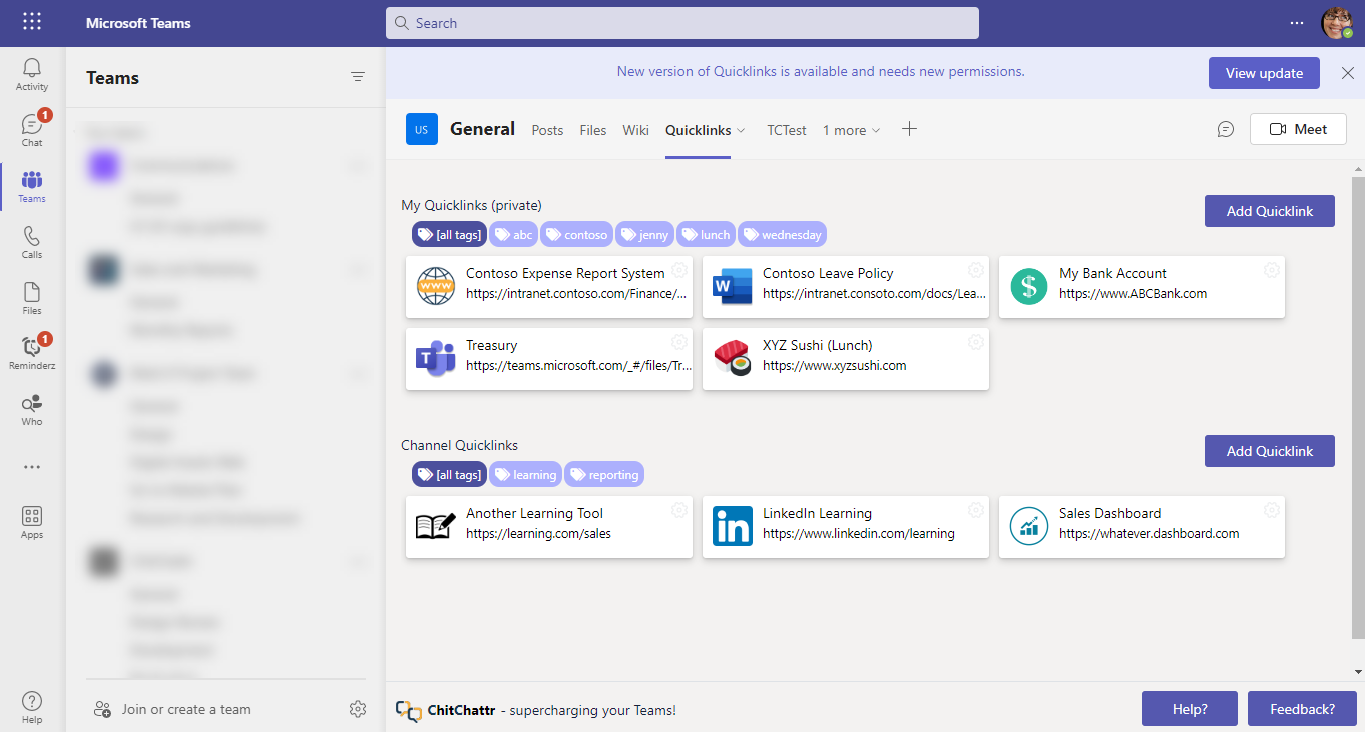 Microsoft Teams will automatically notify you about the new version, as shown in the blue bar above Quicklinks in this screenshot, so just hit the View Upgrade button to get started.
This will open up a process to help you get upgraded to the new version of the app, and when it refreshes your Quicklinks themselves will be converted to the new format automagically.
Let's get started!​
Quicklinks is perfect for teams of all sizes, whether you're a small startup or a large corporation or institute, or something in between. It's an app that can help streamline your workflow and save you valuable time and effort. So why wait? Try Quicklinks today and start sharing links with ease!