Are you tired of constantly sharing the same links with your colleagues and forgetting which tool you used to send which link? Do you wish you had a place to store your own personal links to web content and also to things inside Microsoft Teams, like chats, documents and channels? Look no further than Quicklinks: the newest app from ChitChattr designed to simplify link-sharing in Microsoft Teams.
Quicklinks allows you to effortlessly share links with your colleagues inside channels and group chats as well as maintaining your own personal collection. With the ability to easily create and store your links, Quicklinks enables you and your team to save time and money by storing and accessing your most important links quickly and easily.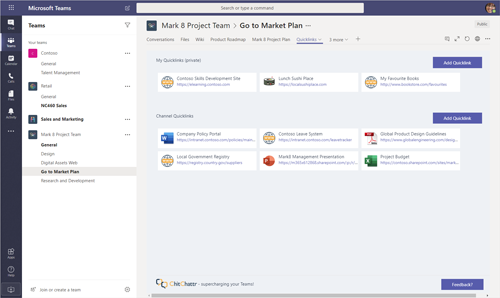 Using Quicklinks is simple. Just add the app as a tab in your channel or chat and start sharing! Your colleagues can access the same links and resources, creating a centralized hub for everyone to stay on the same page. And with Quicklinks' intuitive interface, you can categorize links by topic and easily search for specific links when you need them most.
With the added ability to lock tabs for team owners only, Quicklinks can be customized to fit any scenario, whether it be in a classroom or within an intranet.
To create and manager your own personal links, Quicklinks can also be installed as Personal tab in the left sidebar, so your most important links are easily available, instantly.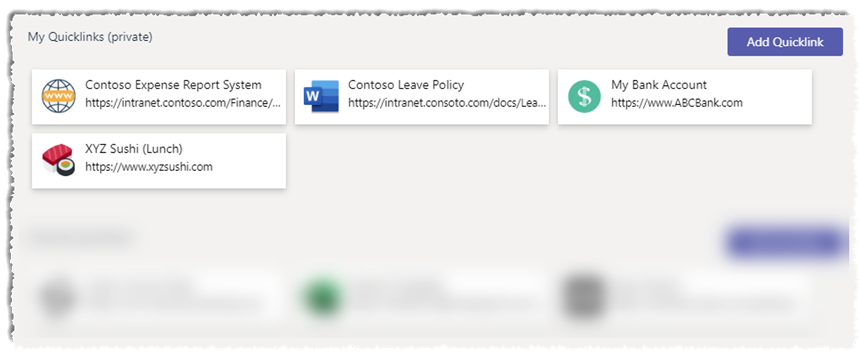 Quicklinks is perfect for teams of all sizes, whether you're a small startup or a large corporation. It's an app that can help streamline your workflow and save you valuable time and effort. So why wait? Try Quicklinks today and start sharing links with ease!
Click to install Quicklinks directly from the Microsoft Teams app store or here to read more.